This is Misty from Amarillo, Texas USA, crossing over in May 2003 - just one month after marrying............
...her husband Clay Houdashell. Clay owns his own studio back in Texas and so a visit to Abbey Road was something he particularly enjoyed.
Mark and Mary Christensen from Phoenix, Arizona crossing over on December 15th 2003.
Mark and Mary again by the Abbey Road sign. Mark was surprised how early it gets dark in London in December. A good excuse to come back again in the summer Mark!
Here we have three pictures from Pete Gibbs from Buckingham, England, who visited London on a day trip on 5th October 2003 with his family - wife Carol and youngsters thomas (7) and Phoebe (5).
...this is fun!
...Thomas and Phoebe at the sign
Here are three pictures from a big Beatles fan, Mick Dylan. Mick kindly sent me a copy of some of his own versions of their songs. Many thanks Mick! Here is Mick at the Studio entrance...
.....on the Crossing....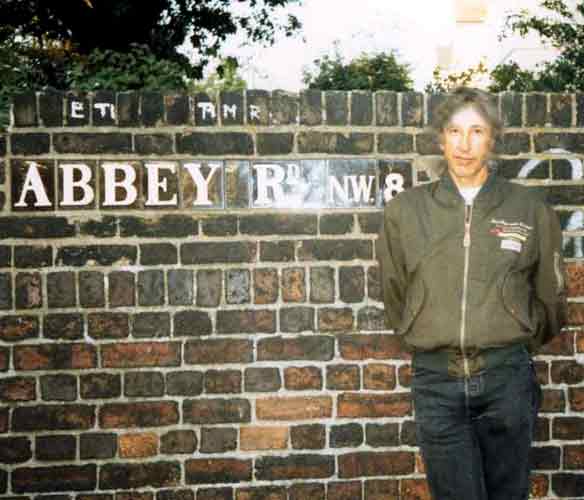 ...and by the not so familiar road sign (still to be found about a 15 minute walk northwards along Abbey Road)
Justin Lichtie visited Abbey Road on 30th October 2003. Justin - from Wisconsin USA - was visiting alone, but had no trouble finding another Beatles fan to take this picture for him.
Paul Rodriguez from Texas USA has been living in the UK for the last five years and visited Abbey Road on January 18th 2004. Here is Paul Crossing Over.......
....and Paul again on the Studio steps.
Well, I think I should just copy what Charles Allison from Scotland has written to me here:

HELLO! Here, for your interest, are the great British band Procol Harum crossing at Pompeii earlier this year - at VIA ABBUS. The guys recorded at Abbey Road as the Paramounts in the early 60s and many of the best LPs by PROCOL HARUM were produced by Abbey Road alumnus Chris Thomas. Sir George Martin produced the first solo album by Gary Brooker; and Gary played piano on My Sweet Lord. Procol Harum are still very active. They had an excellent CD The Wells on Fire out in 2003 and undertook a 65 date world tour, finishing in London on 12th December.

[A note from JJ: I am very pleased to say that I had the great pleasure of being the recording engineer on some of those Abbey Road sessions produced by Chris Thomas. Thanks for making contact Charles]
After saying that we do not hear from many Italians here is another Italian visitor! this time it is Marco Moraca from Pavia who made his trip to Abbey Road on 25th February 2003. Thanks for the picture Marco.
Bill Vignari and Debbie Sabella made their visit in September 2001. Here they are in front of the Studios....
.......Bill Crossing Over.......
...and both of them in front of the Studios again.
This is Bill Scallon from Milwaukee, Wisconsin USA during his visit to London in February 2003. Thanks Bill.
Finally for this month here is a picture taken from the Abbey Road Studios camera which is permanently focussed on the infamous Crossing. Jeandan and Philippe from France sent us this picture, captured during their visit on 31st January 2004. Merci et Au Revoir!